You are here
Behind the Scenes: Grantsmanship Training Program

Printer-friendly version
Having zero experience with grants and writing proposals, I was unsure of what to expect from the 5-day Grantsmanship Training Program. I knew the basics from what I'd seen working across the training room and from what I'd read on the Grantsmanship Training Program Curriculum webpage during my first few days as the Publications and Research Coordinator at The Grantsmanship Center.
The following is a quick breakdown of the week-long training, and some behind the scenes insight on the Grantsmanship Training Program.
I knew we would work in groups at some point and then write a proposal. I had witnessed our trainees in other programs talk furiously about domestic violence, accessibility to the arts in low-income areas, and human trafficking as I walked around the office, but they were just words to me then. Capital campaigns, matching grants, logic models, outputs vs. outcomes... all these phrases went over my head. 
Monday
Day 1 of any class or training is the most exciting as you scan the room and wonder who's there and what type of organization they are a part of. Thankfully, I didn't have to do much since we all introduced ourselves and shared which organization we were affiliated with and whether we had ever written a grant proposal. There were a few veterans in the room as well as "newbies" who wanted to transition over from copywriting to writing grant proposals. A few people weren't specifically looking to make a transition rather they had been assigned to write the next grant proposal for their organization without much warning! Our trainer, AJ King, dove right into the first section of the proposal, and just like that, we were learning about the necessary parts of a strong proposal.
Tuesday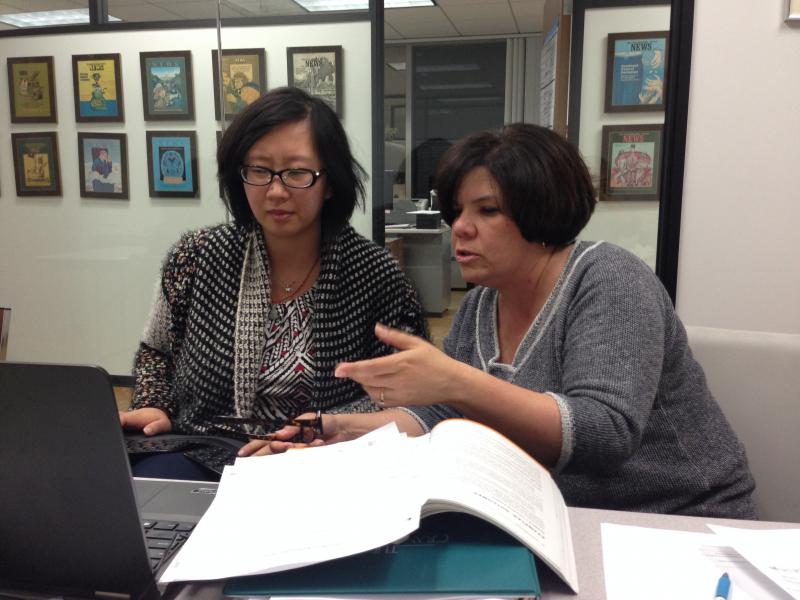 On the second day, we completed two small group exercises, which really helped us apply the concepts that AJ tailored to meet the needs of our specific projects or programs. "So this is what the Listen & Discuss, Do & Review® curriculum means," I thought. It's not someone lecturing at you in a monotonous voice, or reading definitions from a dictionary, such as what the term "methods" means (as someone in the training put it). It was more interactive and hands-on (I swear I'm not taking this straight from our website)! If you had a question about how it applied to your particular situation you would get answers and helpful suggestions from others in the class that had run into similar issues.
Wednesday
Wednesday afternoon we got to decide which project we would work on. Team leaders were assigned and they placed their name and the name of their proposal on a sign-up sheet. There were so many different types of proposals, from a capital campaign for a playhouse to a capacity building proposal for a shelter. The good thing about the small group work we had done previously is that it gave me (and my colleagues) a chance to feel out what group of people I would be most comfortable working with. We weren't tied to the people we had first teamed up with and it gave us a chance to network and learn about the various issues people were working on.
Thursday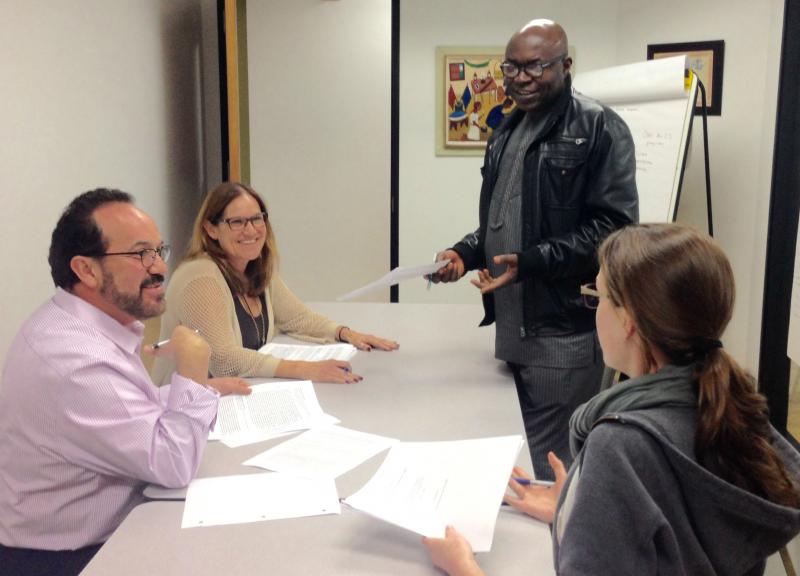 Coffee? Check.
Croissant? Check.
Fruit and boiled-egg? Check and check.
I think we all appreciated the snacks that were given to us throughout the day. It definitely helped those who stayed until 8:00 PM Wednesday night to finish their proposals, which were due at noon on Thursday. My team consisted of 6 people and our project was on educational equity in a small town of Tennessee. We discussed the 8 sections of the proposal and then divided the work up. I chose the evaluation section, which seemed a bit daunting at first but after referring back to my notes and the Grantsmanship: Proposal Writing and Program Planning examples, I was set to go. Even though it was a long day, it was fun connecting with team members and learning more about our professional strengths and weaknesses. I could see why after every training, I would hear people talk about hanging out and keeping in touch. At the end of the proposal writing process, you want to know if the program will get funded and it's a rewarding feeling to know that you might have helped with that.
Friday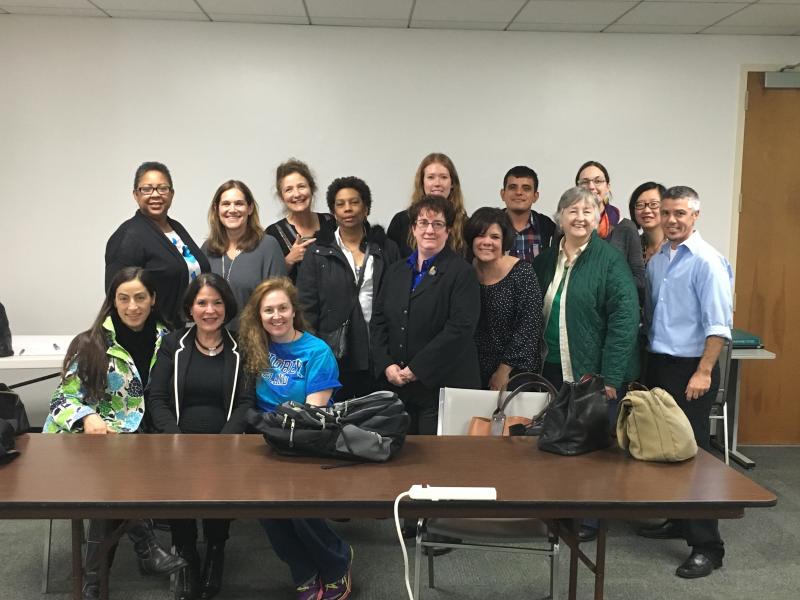 After the deadline for the proposal on Thursday and on into Friday, we spent the time reviewing each other's proposals. There were some people who wanted to work on their own so we had 10 proposals to look over in total. We did a quicker review for the individual proposals for time's sake, but since we get to take all the proposals home (along with comments and suggestions given by the class and AJ) I finished reading over them later. One proposal that particularly caught my eye was a Sanitation Project in Nigeria from our international trainee. I learned more than I could ask for during this training, and not just about proposal writing, but about the passionate people that advocate for their organizations and the resources needed to partner with the right funders. I learned it's about partnerships and making the right connections as much as it is about creating your logical argument (thank you logic models!). It was an amazing experience to work with everyone and nice to hear those sentiments reciprocated.
Want to attend a Grantsmanship Training Program? See the training schedule here! 
—Beatriz Lopez, Publications & Research Coordinator
We welcome you to link to these pages and to direct people to this information on our site.
Please contact us for permission if you'd like to use this copyrighted material in some other way: info@tgci.com.  
We love to hear from you!
© Copyright 2016 The Grantmanship Center. All rights reserved. 
You're welcome to link to these pages and to direct people to our website.
If you'd like to use this copyrighted material in some other way,
please contact us for permission: info@tgci.com. We love to hear from you!
A follow-up study of 385 of our graduates found documented that they won grants totaling over $21 million within just six months of completing the 5-day Grantsmanship Training Program®. Our training produces results!