You are here
Classroom & Training Room Rent in Los Angeles
Need a meeting or event space in Los Angeles?
The Grantsmanship Center's Conference and Meeting Rooms are accessible meeting spaces for nonprofits and other organizations. They are available for rental during the Center's normal hours of operation, Monday-Friday 8:00 a.m. to 5:00 p.m. The rooms are unavailable for use during Federal Holidays. We are located at 350 S. Bixel St, Los Angeles, CA 90017.
Rental Rates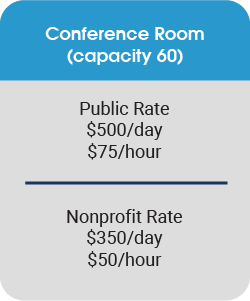 Free Wifi included in both rooms.

15 min. included before and after scheduled rental time for setup/teardown. Overtime rent may be subject to addtional fees based on building charges.

Projector use is a $150/day additional charge. Projector screens are available at no charge, and are controlled by staff.

Small trash cans are provided. Disposal of food is the renter's responsibility.

Parking is available under the building for $10/day, cash only. Parking validations can be purchased in advance for your attendees. No "in & out" parking.

Renter must provide proof of insurance.

A non-refundable deposit of $50 is required with application and applied to the rental fee.

Cancellation for a refund is possible if event is more than 2 weeks away.
Complete these steps to schedule your room rental!
Fill out the online application
Complete the Use of Space Agreement
Provide proof of insurance
Pay via check or credit card over the phone at 213-482-9860 x 248.
Documents and questions can be emailed to andrea@tgci.com